As He Did Aforetime
The faithfulness of Daniel in the face of an unjust law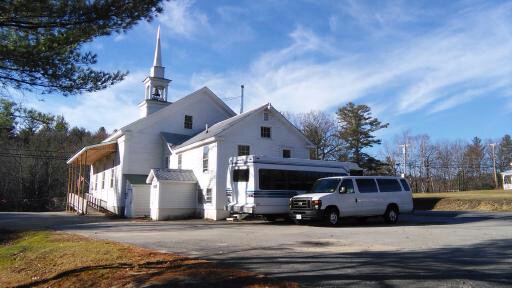 Wow! How things can change in just a few months time. On January 1, as we all considered the year ahead of us, it would not have ever entered our mind that we would be facing one of the most difficult times of our lives. While it is true that we never know what is coming tomorrow, we are still shocked at where we are right now.
I remember talking to a pastor friend on the phone on Wednesday, March 18. He told me of the stay-at-home order and the "no meetings over 10 people" order from our governor. Up to that point we were still having regular services, though we had forbidden hand-shaking and encouraged use of hand sanitizer.
After hearing of this directive, we had service "online" on that Wednesday. And perhaps that was the safe thing to do, understanding that we have an older congregation, and some with compromised immune systems. We suspended live services at that point. We didn't know what to expect from this virus. Initial estimates were millions dead. We did the safe thing and stopped having services.
As the weeks went on, however, it became obvious that the virus had far underperformed the initial estimates. In fact, to this date here in Oxford county, Maine, we have had a total of 15 positive cases, with 13 recoveries. It became evident that we were not in the level of danger previously thought. With Resurrection Sunday coming up on April 12, we decided to have some people in the service so that we can sing congregationally. It was great. God laid it upon my heart that we would not lock the doors of the church any more. From that day, whomever desired to assemble with us was welcome to do so. Of course, we would not advertise to the general public that we are open, but our members know it. I hope I have properly communicated that those who were not comfortable coming, or who were in a high risk category could still stay home, as we continue to broadcast live on Facebook and YouTube.
Earlier this week, NewsCenter 6 ran a story that instructed how to turn in people who appear to be breaking the Governor's orders. This story came out Monday the 4th (If I remember right) just a day after our biggest attendance yet. I believe we had 30 in our service, and 20 or so on Sunday night. It was enough that one of our members was actually asked by a community member what was going on over at the church.
Yesterday, a well known Independent Fundamental Baptist pastor in southern Maine was approached by his local chief of police. The chief informed the pastor that if they went ahead with their Wednesday night service, he would have no choice but to arrest him. They had the service, but were either at or under the 10 person limit.
This all was tumbling through my head last night. I awakened in the middle of the night and contemplated all that is going on. I know that there are some churches that never stopped assembling. A few others had opened their doors again. We had been open with no problems thus far. Now, however, the threat of arrest seems a lot more "real" than it did before.
This morning, when doing my "through the Bible" reading I came to Daniel 6. (must have been an accident, right?) We all know what happened in Daniel 6. Daniel's enemies had conspired to try to eliminate Daniel, or to damage him in some way. They looked at his life, and could find nothing that they might accuse him. (By the way, this is what the word "blameless" means) Their only idea was to entrap him according to his worship of God. What a testimony! Daniel was so upright a man that his enemies couldn't find anything to harm him. But his enemies also knew how faithful he was to the Lord.
Daniel's enemies formulated a plan that anybody who prayed must pray to the king and not to God or anyone else. If a person was found praying to anybody else, they would be fed to the lions. In Daniel 6:10 we see that Daniel knew that the writing was signed. He knew what the decree stated, and he knew the penalty. Yet, when it came to his prayer time, Daniel did "as he did aforetime."
Daniel prayed to the Lord despite knowing he was going directly against the decree. He bowed in prayer to the Lord as he did aforetime. Of course we know the rest of the story, how Daniel was thrown in the lion's den, despite the wishes of the king. We know how the Lord shut the mouths of the lions and Daniel was unhurt. We also know that in the morning, the king had all of Daniel's enemies thrown to the lions.
As I read Daniel 6, though I had read it dozens and dozens of times before, the passage took a fresh meaning. Earlier this week I gave another pastor some counsel. He was lamenting that some would be mad if he opened, and others mad if he kept the church doors shut. (This is a reality of this whole situation). I told him that perhaps he should just shut all the voices out of his head and ask the Lord what He wanted him to show to his own children and family. This is a thought that has been going through my head for weeks. What do I want my family to see? How can I preach from Hebrews 11, if I am not showing any faith myself? How can I use illustrations of our Baptist forebears who continued worshipping the Lord in the face of extreme danger. There were, literally, tens of millions of martyrs. They continued assembling and worshipping knowing that they would soon be killed for their faith. How can I ever preach about faith if I won't take a stand.
I want my children and my grandchildren to see faith demonstrated. I have failed the Lord so many times, maybe this one time I can stand where I know I should.
This morning I considered all of our Sunday Schoolers. Our precious children here at BPBC. How can I ever stand before them and sing, "Dare to be a Daniel" if I were to cower to Caesar's overreaching mandate? The choice is easy. We will stay open. If I lose friends because of it, that is fine. If I get arrested because of it, that is fine. If this costs me my secular job, that is fine. Even if some within our own congregation disagree with me, I must stand. I am trying to refrain from making any kind of public spectacle of myself. I am not going to write any open letters to the governor, or the Oxford County sheriff's office. I am not going to beat my chest about being bold. I am nothing. I know that I must be faithful.
This entire blog is for my church family. Please do not forward this or post this. I didn't know how else to get this to everybody without doing what I have done. I love you all. Please pray for one another.